1. Chair
a) 90 degrees rule (90, 90, 90)
Leg to thigh
Thigh to Torso
Arm to Forearm
b) Seat pan tilted so thighs slightly higher than knees
c) Lumbar support on right spot
d) Height of chair, footrest needed?
2. Monitor
a) Distance from screen 18-28″
b) Eyes parallel with top inch of screen
c) Directly in front of person
3. Keyboard/mouse
a) Directly in front
b) Not reaching for either one!
c) Shoulders relaxed
d) Arms at 90 degrees
e) Wrists neutral & relaxed
4. Phone use
a) Do not hold with shoulder
b) Head set is best if both hands needed while on phone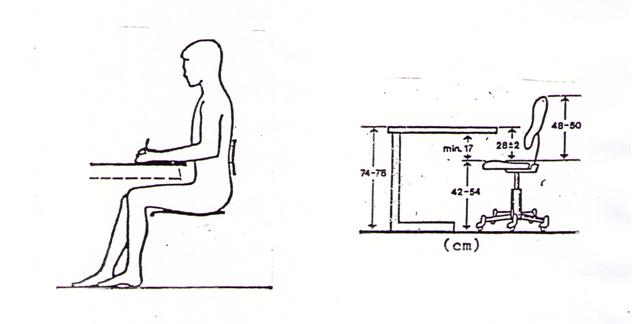 Typing Tips To Help Prevent Repetitive Strain Injuries
Wrist Pads:
1. Wrist pads are designed to remind you to lift up your wrist slightly so that your hands don't rest on any surface as you type, because that angle can compress the carpal tunnel.
2. When you pause in your typing, you probably put your hands down. It's better to rest them on a soft pad than on the hard corner of a desk, which can cut off circulation and compress the carpal tunnel.
The Chair:
1. Tilt seat pan to get your thighs slightly higher than your knees. This straightens the spine and helps support your head and arms.
2. Adjust the height of the seat so that your thighs rest on the seat pan, and place your feet firmly on the floor. If you have to be higher to get in the right relationship to the desk or the keyboard, then use a footrest.

How to use your mouse:
1. The mouse should be held loosely. Imagine you are holding a small bird. Gripping creates tension in the other fingers.
2. Don't rest your wrist or forearm on the table while you move the mouse.
3. Use your whole arm and shoulder to move the mouse, not just the wrist
4. Be careful not to lift your pinkie finger, hold the mouse lightly with all your fingers.
5. Keep your wrist in a neutral position.
6. Use a light touch when you click.
ARE YOU COMFORTABLE THROUGHOUT THE DAY?? IF IT FEELS GOOD AND YOU TEND NOT TO SHIFT TRYING TO GET COMFORTABLE, THEN YOU ARE PROBABLY LESS AT RISK OF INJURY OR RE-INJURY.
*Remember, we are not robots. Get up. Move around. A good chair lets you have a little room to move so you can stay loose.
Tightness and learned poor posture at the neck and shoulders have a huge effect on the arms/wrists. Muscular tightness/overuse/under use and poor circulation may contribute to complications in the long run.
Here are some posture Guidelines
1. Let your shoulders relax
2. Let your elbows swing free
3. Keep your wrists straight
4. Pull your chin in to look down, don't flop your head forward
5. Keep the hollow in the base of your spine
6. Try leaning back in the chair
7. Don't slouch or slump forward
8. Alter your posture from time to time
9. Every 20 minutes get up, stretch and move around